Opening night for Monument or Four Sisters (A Sloth)— through May 29 at the Magic Theater — was a tense experience for someone aware of COVID. Aside from the usual Magic vax check, the lobby of his Fort Mason building was crowded with SF teenagers attending the ball in the downstairs dining room, all unmasked. Add to that the frustration of seeing an old white man in the front row of our audience who refused to cover up the whole show.
I certainly don't blame artistic director Sean San José for that, especially since his pre-show speech was one of the few that emphasized mask and vax safety ("This n ain't Texas or Georgia," he joked). It's just that after the unmasked prom kids gauntlet, I secretly hoped that he or one of the cast members would notice the old man and create a Patti LuPone moment for all of us still in masks.
It wasn't to be, so I had to settle for my second strong show with an Asian cast in the space of a few days (after Harry Chin's Paper Dreams at SF Playhouse).
Sam Chanse's three-part title could easily make one think of Pygmalion, a certain play by Chekov, and either children's entertainment or Orwellian satire. I dare say that all of the above were influences in one way or another. The piece actually reminded me of the recent OTP/Ferocious Lotus production of Purposes, which also featured a predominantly Asian cast, scuba diving, and a quasi-meta subplot in which an Asian woman writes against the traditional white narratives of her industry. The way this one does it is almost as surreal.
Monument, as its title suggests, revolves around four sisters: marine scientist Amy (Erin Mei-Ling Stuart), who has both a toddler and a wedding on the rocks; TV writer Constance (Rinabeth Apostol), whose participation in a popular sloth-based animated series explains the term's presence in the title; unemployed playwright Mac (Sango Tajima), who was forced to quit her dream job with an art troupe after an incident she refuses to elaborate on; and the rarely seen Lina (Lisa Hori-Garcia), whose life is mostly defined by "the toxic guy her sisters want her to leave."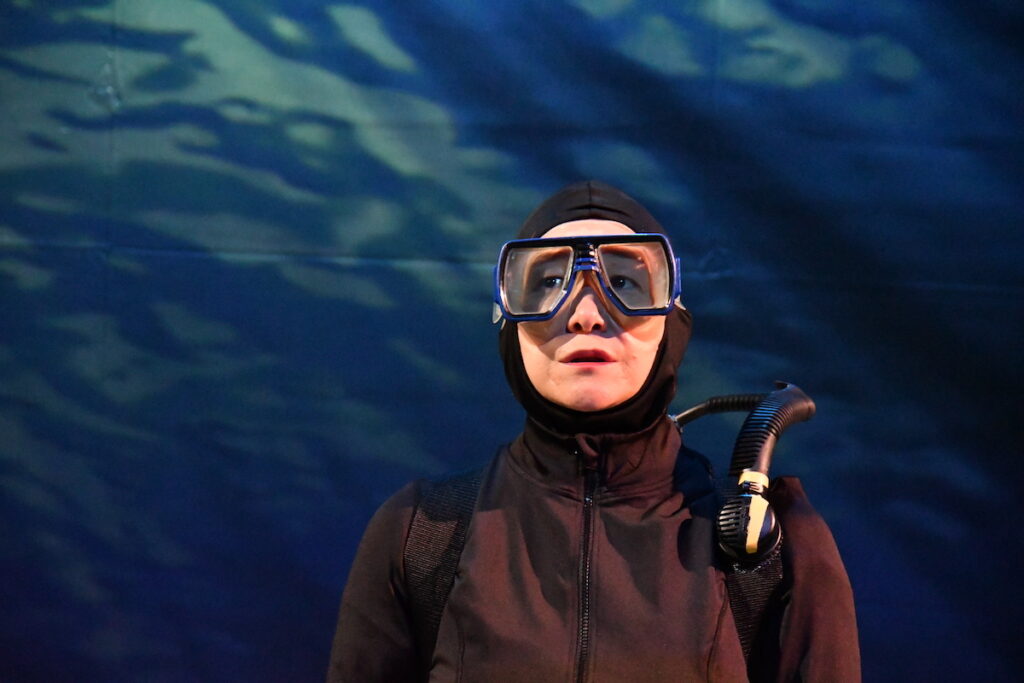 The plot, if it can even be called that, is secondary to what we learn about the sisters as characters as they react to what is happening around them. Constance, a meticulous person who laments the lack of control she has in a room of mostly white writers, tends to take her anger out on Mac, whom Constance sees as a slacker. Amy, rather than working on her marriage, sets off to explore one of the few barrier reefs that has somehow escaped the massive coral bleaching. As noted, we don't know much about Lina other than that she's with a terrible guy and would be the other sisters' barrier – clue, clue – to their notoriously temperamental father (represented offstage by a live soundtrack). Booming by Sara Witsch) .
If history can be considered "about" anything, it's about how everyone has their breaking point, their point of no return where a problem is so bad that it doesn't can't be solved with a simple "I'm sorry". In a way, this is all the more evident by contrasting it with episodes of an animated series (opening credits by Sarah Phykitt) in which every problem is solved by deus ex machina. Three anthropomorphized Latin American sloths, with oddly US-based personalities, find themselves in a conundrum until a fourth sloth, the only female, arrives in pink leather on a bitchy motorcycle, using her incredible skills scientists to save the other three boys.
If this character seems too good to be true, she is. Constance's minority status in her writers room is exacerbated by the fact that she only has one female character and that character has to be everything to everyone, as she is the only woman the cast principal has ever encountered. And don't start Constance having to sidestep racial sensitivity with white dudes writing for a show set in Latin America (she had to fight tooth and nail to get a story about "boundary jumpers" canceled). Constance's role and the character she builds are the end result of institutional racism and misogyny in an industry that refuses to evolve.
Sponsored link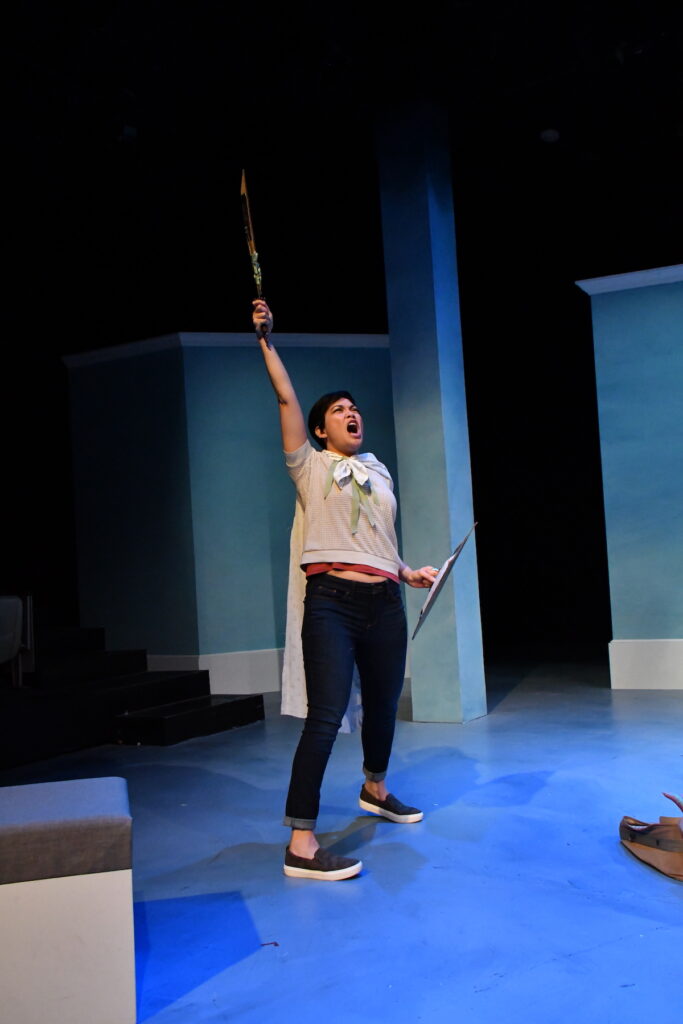 That same misogyny is likely at the heart of Mac's dismissal from her theater troupe, which she only vaguely alludes to as involving an incident with a male superior. It's a conversation that grows more uncomfortable with each passing mention. Her Constance front to avoid trouble is all the more pronounced compared to Amy literally escaping to the bottom of the sea to avoid her crumbling marriage (with a wife, BTW). Whatever flaws Chanse's script may have with the occasional tangent going on too long, it makes up for it with its empathetic characters.
Helping him succeed in this task is the solid cast of director Giovanna Sardelli, all of whom are among the most trusted artists in the Bay Area, even those who no longer live in the Bay Area. Dancer Erin Mei-Ling Stuart, who I last saw in the movie Girl in Golden Gate Park, brings frustration to the brink for Amy, desperate to swim the coral reefs lest she violently explode on someone close. Highly requested Rinabeth Apostol, last seen at The Magic for The Chinese ladypersonifies a different frustration for Constance, who controls herself for fear that an outburst will be seen as representative of all minorities.
Sango Tajima brings her usual pixie energy to Mac, even in the most reserved soliloquies: she has an artist's urge to constantly create, but must reconcile the fact that certain forces do not allow it. What little we see of now Colorado-based Lisa Hori-Garcia is often behind Michelle Mulholland's sloth costumes, but it's no less entertaining.
Although it stretches a little long in its execution, Monument is a fine example of people of color's frustration with a world literally bleached to the point of destruction. It's an example of why having a seat at the table doesn't mean you have a voice. If these points resonate with you, I recommend checking it out. Let's hope it's not a night full of unmasked prom kids.
MONUMENT, or FOUR SISTERS (ONE LAZY PIECE) through May 29 at the Magic Theater in Fort Mason, SF. Tickets and info here.